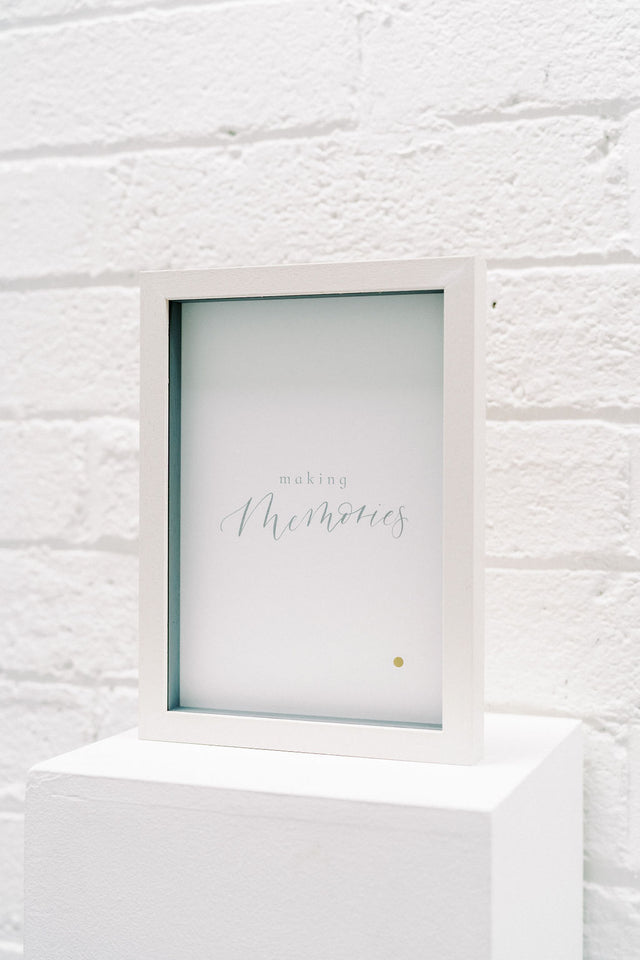 Dimensions: Framed A4; 32.7cm x 24cm x 3.2cm   
Colour: White paper with grey ink and a gold foiled dot, presented in a white frame with a grey insert. 
We have all found a need to seek out moments of solace to provide comfort and support, to encourage mindful growth and to inspire hope. We are seeking new delights; moments that inspire gratitude and a sense of fulfilment. We're also seeking to bring a smile to the most ordinary moments in our day and to share in that joy with others.
Add a touch of magic, and humour, to any home, office or shared space with this collection of prints that will inspire when you're in need of a pick-me-up!
the details...
Handwritten
Handwritten in Marie-Claire's signature modern calligraphy style and digitalised.
Paper, Printing + Framing
Printed on 250gsm coloured luxury FSC accredited paper, foiled with a signature gold dot.
For framed pieces only ~ Presented in a premium quality, custom-cut handcrafted wooden box frame with glass, ready with fixings for hanging. The frame is sealed with a high-quality backboard and tape to prevent damage from dust or humidity.
Quality + Sustainability
Each piece is created carefully by hand; handwritten, hand-framed with hand-painted details, and hand-packed.
The collection is designed with sustainability in mind and designed to last.