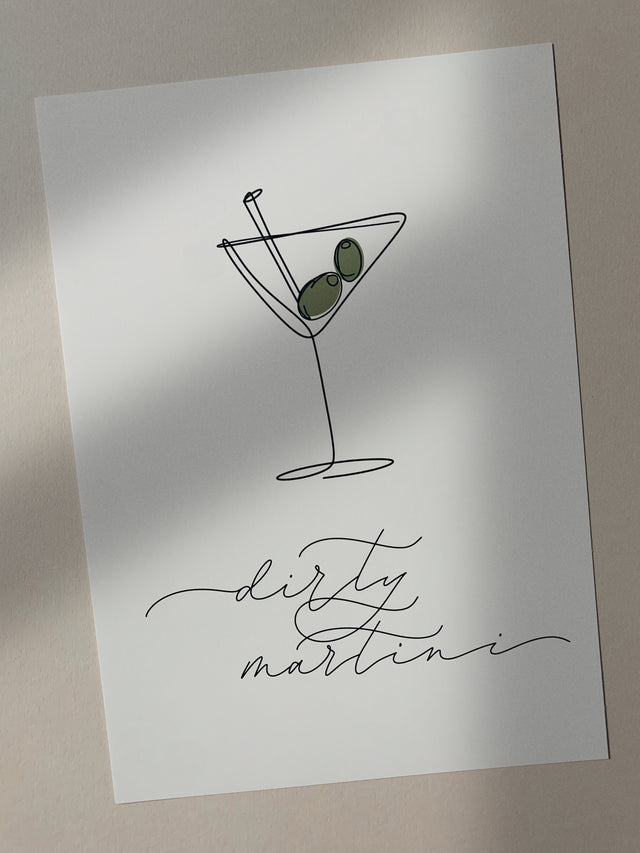 If a Dirty Martini is your drink, make room on your wall!

Hand-illustrated and hand-drawn in our signature monoline style, it adds the perfect touch of fun to any room. Plus, it's printed on A4 premium paper, so it'll stand the test of time. Cheers! 🍸
the details...
Handwritten
Handwritten in Marie-Claire's signature modern calligraphy style and digitalised.
Paper, Printing + Framing
Printed on 250gsm coloured luxury FSC accredited paper, foiled with a signature gold dot.
For framed pieces only ~ Presented in a premium quality, custom-cut handcrafted wooden box frame with glass, ready with fixings for hanging. The frame is sealed with a high-quality backboard and tape to prevent damage from dust or humidity.
Quality + Sustainability
Each piece is created carefully by hand; handwritten, hand-framed with hand-painted details, and hand-packed.
The collection is designed with sustainability in mind and designed to last.